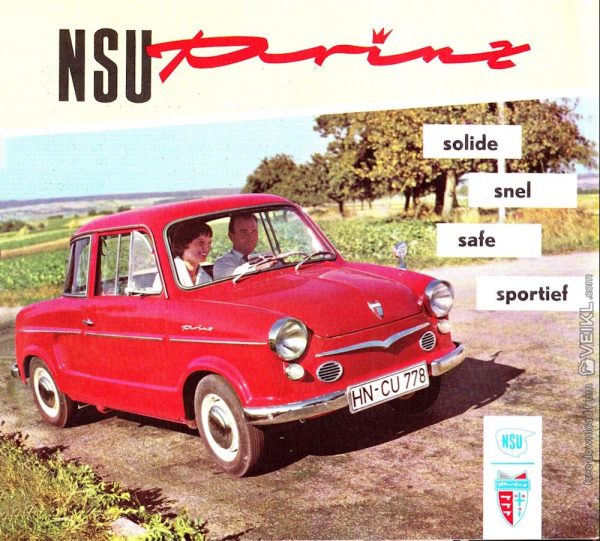 NSU Prinz I
Presented in 1957, the NSU Prinz I was the first post-war NSU car, presented at the Frankfurt motor show with the German slogan "Fahre Prinz und Du bist König" – "Drive a Prince and you're a king", in English. A first pilot preproduction of 150 cars was successful, followed by an official launch in March 1958.
Description
The NSU Prinz I was a 2-door saloon car, with four seats.
The Prinz was fitted with a 600CC two cylinders engine, producing 20 horse power, mounted at the rear of the car, offering a rear wheel drive.
In 1955 development began on a small 4-seater car, and in 1956 the first NSU Prinz cars rolled off the line. Introduced at the 1957 Frankfurt Motor Show, NSU's tagline read, "Fahre Prinz und Du bist König", i.e. Drive a Prince and You're a King. The Prinz line was updated several times, and was quite successful, remaining in production well into the 1970s.
Lane Motor Museum loaned this 1959 NSU Prinz 1 for James May's segment on the Apollo space program for Season 3, Ep. 9 of Amazon Prime's The Grand Tour. Most astronauts drove Chevrolet Corvettes that were given to them by GM, but Mercury astronaut John Glenn instead drove an NSU Prinz 1. The Prinz got better fuel mileage than the Corvette, as Glenn had a longer commute than his fellow astronauts, allowing him to save for his children's college fund; the more economical Prinz made financial sense.
Specifications:
Manufacturer: NSU Motorenwerke AG
Country of Origin: Germany
Drivetrain Configuration: Rear engine, rear wheel drive
Engine: 583cc, 26 hp, 2 cylinder, air cooled transversely mounted
Transmission: 4 speed manual
Top Speed: 62 mph
Years of Production: 1956-62
Number Produced: 94,549
Original Cost: $1,195
Specifications:
Displacement 996 cc
Compression Ratio 8.1:1
HP Output 40 hp at 5500 rpm
Torque Output 7 kg/m at 3000 rpm
Transmission 4 Manual
Length 3810 mm
Width 1490 mm
Height 1360 mm
Weight 620 kg
Wheelbase 2250 mm
0-100 18.9
Max Speed 135 km/h
*Data for 1965