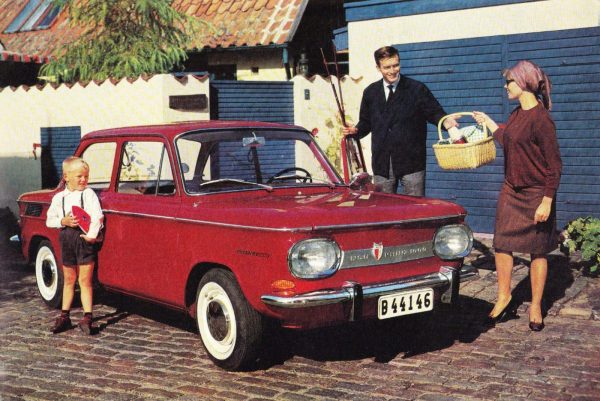 NSU Prinz 1000
The NSU Prinz 1000 was presented in 1963, as their first four cylinder air cooled engine model, with an chain drive overhead camshaft.
The Prinz was typed as Typ 67. The engine was rear mounted, producing 40hp out of a 996cc displacement, with top speed of approximately 135 km/h.
Description
Looking back, it's certain to say that the Prinz 1000 cars were advanced for their period compared to other cars on the same category. The driving experience was both comfortable and sporty, with excellent handling and cornering equivalent to other rear engine small cars from Porsche and BMW. The engine had a lot of tuning possibilities, due to it's overhead camshaft and cross-flow cylinder head, as well as it's advanced suspension featuring trailing arm rear axle.
The design was quite unusual, with distinguished elliptical headlights, rear side cooling vents and unique rear lights. The name 'Prinz' was removed from the emblem in February 1967, replaced by 'NSU 100o' or 'NSU 1000c' emblems. The use of
About 196,000 NSU Prinz and NSU 1000 were produced until the end of production in December 1972.
Specifications:
Displacement 996 cc
Compression Ratio 8.1:1
HP Output 40 hp at 5500 rpm
Torque Output 7 kg/m at 3000 rpm
Transmission 4 Manual
Length 3810 mm
Width 1490 mm
Height 1360 mm
Weight 620 kg
Wheelbase 2250 mm
0-100 18.9
Max Speed 135 km/h
*Data for 1965